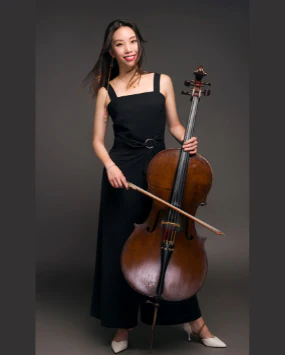 Xinya Zhou, holding a doctoral degree in cello performance from the University of Cincinnati, College-Conservatory of Music, is the recipient of the full scholarship and teaching assistantship for both of her Doctor and Master degrees in the United States. Besides being a solo cellist, she is also an orchestra cellist. She served as the principal cellist in several orchestras in Ontario, Ohio, Kentucky, West Virginia, Pennsylvania, and New York. She also regularly performed with the Trans-Siberian Orchestra during their Christmas tours every year when living in the United States.
In 2009, Xinya joined the cello section of the Hangzhou Philharmonic, one of the most prestigious orchestras in China. In 2017, after a successful audition, Xinya became a core member of the Lima Symphony Orchestra in Ohio, USA. Xinya moved to Toronto with her family upon completion of her doctoral degree in cello performance. Recently, she has joined the cello section of several orchestras in the great Toronto area, such as the Niagara Symphony Orchestra, Casa Loma Symphony Orchestra, Brantford Symphony Orchestra, etc.
Xinya is also a private cello teacher. Her students, comprising all ages, are from both Canada and the United States. In Canada, many of her students have won the 1 st place in different competitions held by either the city of Toronto or the province of Ontario. In the United States, she had sent many of her students to various music festivals, such as Berkshire High Peaks Music Festival in Massachusetts, Endless Mountain Music Festival in Pennsylvania, etc.