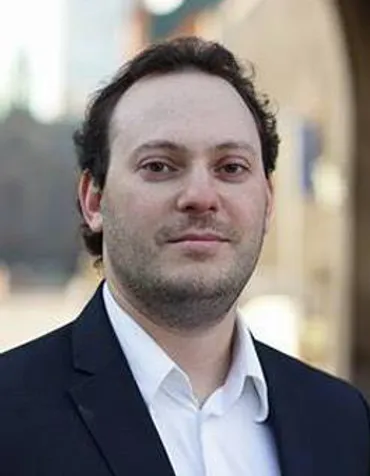 Canadian-Israeli pianist, Dr. Michael Berkovsky, made his New York debut at the David Geffen Hall at Lincoln Center and has toured as a soloist in Ireland, Japan, Italy, Israel, Canada, the United States, and Costa Rica; as well as performed under the baton of Vladimir Feltsman, Stefan Sanderling, Leon Fleisher and William Noll. Michael won numerous international awards and regularly collaborates with chamber groups and award-winning musicians. He was a guest artist at many international festivals, including Arts Naples where he collaborated with Russian pianist Pavel Narcessian, and Music Niagara Festival. He frequents the cultural scene of his community in Toronto and has performed with Kindred Spirit Orchestra, York Symphony Orchestra, and many others.
A passionate and dedicated music educator as well as a highly sought-after piano teacher, Dr. Berkovsky is on the faculty of the Glenn Gould School and the Phil and Eli Taylor Performance Academy for Young Artists, at the Canadian Royal Conservatory of Music. He also maintains a private studio in which a number of his students have placed highly in provincial, national and international competitions. Additionally, Michael is a board member of the Canadian Music Competition as well as an advisor on the Artistic Committee of the Chinese Cultural Center Music Festival.
He was a recipient of the America Israel Cultural Foundation Scholarships from 1994-2001. On the recommendation from Maestro Valery Gergiev, Michael was awarded the White Nights Foundation Scholarships while studying at The Juilliard School.
Born in the former Soviet Union and immigrated to Israel in 1990, Michael has studied with Nataly Litvinova and was mentored by Alexander Slobodyanik. In 2001, his family moved to Toronto, Canada. He received his Bachelor and Master's degrees from The Juilliard School where he studied with Yoheved Kaplinsky and Julian Martin. In 2011, he completed his Doctoral degree at the Peabody Conservatory of the John Hopkins University under the tutelage of Professor Yong Hi Moon.
"Mr. Berkovsky is quiet and unassuming in demeanor and simply settled down at the piano to play several of the great masterworks of the repertoire. He was in all ways a servant of the music and gave us a performance that was nothing less than astonishing" – Southampton Times
"It's not surprising to encounter talented pianists, but it sure is fun to hear one who has something distinctive to say" – Baltimore Sun