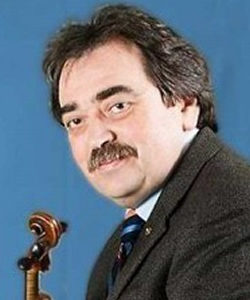 Jacob Lakirovich served as head of the Violin Department at the New Conservatory of Music in Toronto (1997-2013) and currently teaches privately in his studio in Thornhill, Ontario. Many of his students are graduates of universities and conservatories in Mannheim, Stuttgart, Brisbane, Sydney, Melbourne, New York, Cincinnati, Chicago, Cleveland, and Toronto and hold positions with leading orchestras and universities in Europe, Australia, the USA and Canada. His Australian and North American students have
received scholarships from prestigious universities in the USA as well as from the Aspen Music Festival, the Juilliard School, the Royal College of Music, London, Royal Conservatory, Toronto, and the University of Toronto. His students are recipients of Silver and Gold Medals in The Royal Conservatory examinations and are top prizewinners of various international and Canadian violin competitions. In 2013, two of his students were the laureates of the Cremona International Competition for strings in Italy.

Among others, Mr. Lakirovich's principal teachers were Rami Shevelov, Yair Kless, Boris Goldstein, and Rudolph Baumgartner. Jacob Lakirovich was the Artistic Director of International Youth Music Festivals and International Master Courses and Workshops in Brisbane and Sydney, Australia. Guest artists included renowned Australian musicians as well as Yair Kless (Israel), Giuseppe Giglio (Italy), Dr. Felix Andrievsky (UK), Kurt Sassmannshaus (USA), Nelli Shkolnikova (USA), Ferdinand Schmitz (Germany), and Sir
Yehudi Menuhin.
Mr. Lakirovich has led many workshops on violin technique and interpretation at international music festivals in Germany, Australia, and Canada. He also directed the series of Annual Charity Concerts in aid of various organizations such as Children Hospitals, SPELD, Drug-Arm, and Rotary International. Most of the concerts were recorded by 4MBS FM Brisbane for special radio broadcasts.

Mr. Lakirovich worked as one of the reviewers for the Royal Conservatory publication of the 2013 Violin Syllabus' Violin Repertoire and Violin Technique and Etudes books. Mr. Lakirovich is a jury member and adjudicator at a number of national and international violin competitions and festivals in Australia, Germany, Italy, and Canada. He has held positions in orchestras in Europe, Australia, and Canada, among them, the Heidelberg Opera Orchestra; the Queensland Pops and Theatre Orchestras, where he served as Principal Violinist and Concertmaster; and the Canadian Chamber Academy Orchestra. He appeared as a soloist and conducted chamber and youth symphony orchestras in many European countries, as well as in Israel, Australia, and Canada that were broadcast on radio and TV, including the Radio Vatican.

Jacob Lakirovich is the artistic director of the JVL Summer School for Performing Arts "Music in Summer" Festival that brings together some of the leading performers and teachers from North America and Europe and is also the past president of the Rotary Club of North Scarborough.